Find out what's keeping you from peace with food.
The hands-on practical book to help you understand and shift the neurobiological patterns at the root of your food suffering.
"This book is the best and most accessible description of deep, early relational wounding I have ever read… Galina puts all the pieces together in a way that's really easy to understand, and then moves into what we can do about it."
Andrea L. Bell, Psychotherapist, SEP
The path to healing
may look very different than you imagined.
When your trauma history is showing up in your relationship with food, the common "fixes" don't work.
Even if you've struggled your whole life, you can still get to the root of what drives you to eat when you're not hungry or what makes you start the next diet, even though you know that's not a solution.
You already know that it's not about the food, your discipline, or lack of willpower. Something in you has known that all along, but maybe you haven't known what to do about it.
Having the inner courage to get to the root cause is the first step.
If you're reading this, that courage is within you and calling you to take action. Peace with Self, Peace with Food can help you in your next step on the path.
The key you didn't know was there.
It's not about willpower, and it's not about the food.
Have You…
– Blamed your eating behaviors on a lack of willpower?
– Tried eating intuitively, with no success?
– Struggled to shift your body image or accept where you are?
– Joined exercise programs, diet support groups and countless challenges?
– Worried that you can never have a healthy relationship with food?
If this sounds familiar, then Peace with Self, Peace with Food was written for you. It takes a somatic and movement-based approach to help you:
– Understand how your history shaped your adaptations and coping strategies
– Embrace your nervous system as an ally and know your body as a friend
– Ease your system's responses through somatic practices and gentle movement
– And find greater freedom to make the choices you want today
I get it.
I was in your shoes and at war with my body for 25 years.
I get how much your struggle with food steals from your life. I get that you want a normal relationship with food. I get that you feel like you've tried it all, and you haven't been able to figure it out.
Yea, that last one I really get.
After 25 years of trying to end the war with food using diets and nutrition approaches, I didn't get better and gave up. As you can tell, that wasn't the end of the story.
Similarly, your food struggle doesn't have to define your story. If you're ready to try something new – I'm here to help.
Join others finding peace with food.
Get the signed paperback for $24.99
Get the signed paperback and ebook and save!
Read the ebook on any device for just $9.99
Also available at your favorite online store!
Create the freedom you've been missing.
Life Changing
Galina's PWF method is absolutely life-changing. This book is a must-read if you've ever felt crazy for struggling with food or your body. This book is a beautiful, thorough introduction to more deeply understanding what your nervous system is doing and how trauma and food/ body struggles intersect ….and more importantly, she guides you through very simple somatic practices to begin to come back home into your body. I can't recommend Galina and her work highly enough! She is ahead of the curve by decades.
Kelly
Reader
This Is a Resource is a GIFT
I've owned it for less than a month, and this book is already one of the most accessible, useful, and heartful resources I have ever come upon in the work of connecting with the body. I have been in healing spaces and working with women around trauma (specifically around how we hold grief in our bodies) and how that affects our relationship with food since 2011. This book has taught me things in an embodied way that I only "knew" cognitively for years but couldn't reliably access in the moments it really counted. Now, I have not only a mindful understanding of this work but a body-ful, somatic understanding as well. That really makes ALL the difference. Thank you, Galina, for giving us all a practical and compassionate resource for working with our relationship with food and ourselves. It is truly a GIFT!
Emily Ruth
Reader
Such a Treasure
This book has changed my life! I have a new outlook on why it's not about food. How to heal my body and transform myself into who I can be without constantly thinking about food—such a treasure.
Jen
Reader
An Infinite Gift
Written in a poetic language of healing, Peace With Self, Peace With Food offers a pragmatic and science based path out of one of life's most insidious struggles. If you've found yourself wrestling to win back the affirming force that is possible in a healthy relationship with self and food, Galina's compassion and hard-earned wisdom is an infinite gift.
Lyn Christian
Reader
Finally a book and approach that make sense!
I've had a complicated relationship with my body since childhood (haven't we all)? I steadily gained weight through the years and did a point counting program a couple dozen times plus other programs….I thought that I lacked the capacity for an uncomplicated relationship with food.
Fast Forward to the pandemic. The world shut down and so did I. I leaned heavily into intuitive eating and body positivity. If diet culture was restriction then Intuitive Eating (in my application of it) was 'go nuts'. Want a cookie? great. Want 12? Rock on. (To be fair this is not what IE is but rather is how I approached it). I don't know how much weight I gained in the pandemic but it was a lot.
Self-loathing and judgement didn't make me lose weight and Intuitive Eating/Body positivity did not make me love and accept my body.
I love Galina's work because it is practical and accessible and presents an entirely different way to conceptualize what our needs are. (Not just hunger). She is gentle, kind, clear headed and this book is just a deep well of compassion. I think this book can provide practical tools but also can open a window to a whole new landscape. This is not a weight loss book. Its not a book of 'shoulds and should-nots'. It is more like an invitation to encounter yourself in an entirely different way and to begin to notice whats happening inside instead of trying to address our needs in other ways. She teaches ways to settle our bodies and systems so we can begin to really connect. Peace doesn't come from losing 50 pounds. It comes from transforming our relationship with how we nourish ourselves, in all senses.
I would encourage anybody who has 'tried everything' to consider this book. I'm on the author's email newsletter list and the steady messages in there are supporting me. This book is a gem and frankly, I think will become a seminal work in regards to understanding ourselves and our true needs.
Kate B
Reader
The book not only invites us to deep listening and compassionate care. Reading it already gives you the full experience what ventral activation feels like. Galina's love is poured into every single word, and you can feel your body soften along them. The peace is in the experience.
Nina
Reader
Directly accessible to everyone
In "Peace with Self, Peace with Food", Galina offers a humane and compassionate way of understanding the survival adaptations that children have had to make to manage early trauma, and how this process shapes one's life-long relationship to eating and food. Using a unique framework that highlights the current neuropsychological thinking, this book provides a somatic approach to support so many individuals who may have a challenging relationship with eating and body regulation. I appreciate how Galina includes numerous body awareness exercises to make this information directly accessible to everyone. I imagine this book will be a valuable resource to support healing and growth for anyone who is interested in learning more about their own relationship to eating, food and their bodies.
Brad Kammer,
LMFT, LPCC, SEP
Deep concepts in a straightforward manner
If you're tired of struggling with your food issues and repeatedly trying to muster enough self-discipline to reach your goals, Peace with Food is the book for you. Using the information and tools in the book will help you to "work smarter, not harder". It's the difference between pushing your car uphill and just putting the key in the ignition and letting your car drive you to your destination. Galina Denzel explains deep concepts in a very straightforward manner and there are exercises throughout to let you try out your new tools. It's a beautiful piece of work and I plan on gifting it to a few people I know will love it.
Rebecca
Reader
Practical Tools
Galina provides a wealth of knowledge and practical tools to help people understand how food has been a way to support and regulate ourselves during challenging times in our lives and to use that understanding to create positive change. It has been an incredible resource for me personally and as a therapist… There are many practical exercises and journal prompts that support the integration of the material. My clients report having new insights and understanding that have led to less shame and more compassion. I highly recommend this gem of a book!
Lisa Gillispie
LPC, SEP
FAQ
How is this different?
If you've tried promising diets and programs without success, and you keep struggling with overeating and restriction, there may be more to your story. When your body lives with the imprints of trauma, it develops ways to help you survive. Many programs and approaches fail to take your nervous system and these intelligent adaptations into account. So even if straightforward self-care has worked for your friends, you may need something deeper, more thorough and respectful.
Can a book really help?
Peace with Self, Peace with Food offers a novel way to approach your food struggle, but that's not all. To help you on the path, I've included bonuses with every book purchase. I receive countless emails every day from people who find the book incredibly helpful!
25 + audio and video practices with me
Downloadable and printable extras
A private Facebook group to support you
Journaling prompts
Somatic practices
A free seat at my introductory workshop
I hope and intend that the Peace with Food approach will give you answers and tools when you've previously found none. So even if you've purchased the book already, follow these steps to receive your bonus material.
Join thousands of readers who are finding peace with food.
"Through compassionate inquiry you have the opportunity to explore not just your relationship with food, but your relationship with your innermost self. You are invited to befriend your emotions and partner with your mind as a wise ally instead of a hurtful critic." – Arielle Schwartz, PhD
Get the signed paperback for $24.99
Get the signed paperback and ebook and save!
Read the ebook on any device for just $9.99
Also available at your favorite online store!
Interviews with the Peace with Self, Peace with Food Models and Artists
When Debbie Baxter – photographer, artist and creator of the Nest Project agreed to work on the cover of my book, my heart could finally stop searching – what I wanted to share with the world could be done with one picture! The hope, love, understanding, care and compassion that we all need on the path to peace with food could finally be seen and felt through Debbie's lens. She's not only an exquisite artist, but a great story-teller and captured both the models – Helen, Vanessa and Nicole – and their raw, moving stories. I am so grateful to these beautiful, courageous and generous women for their work for the cover, and to Debbie – for making it all possible!
Before I got into the nest, I was afraid that I wasn't going to fit into it. I am just…
Read a Chapter from the Book Now
Ready to Get Started?
The best way to start is to download a free chapter of my book "Peace with Self, Peace with Food."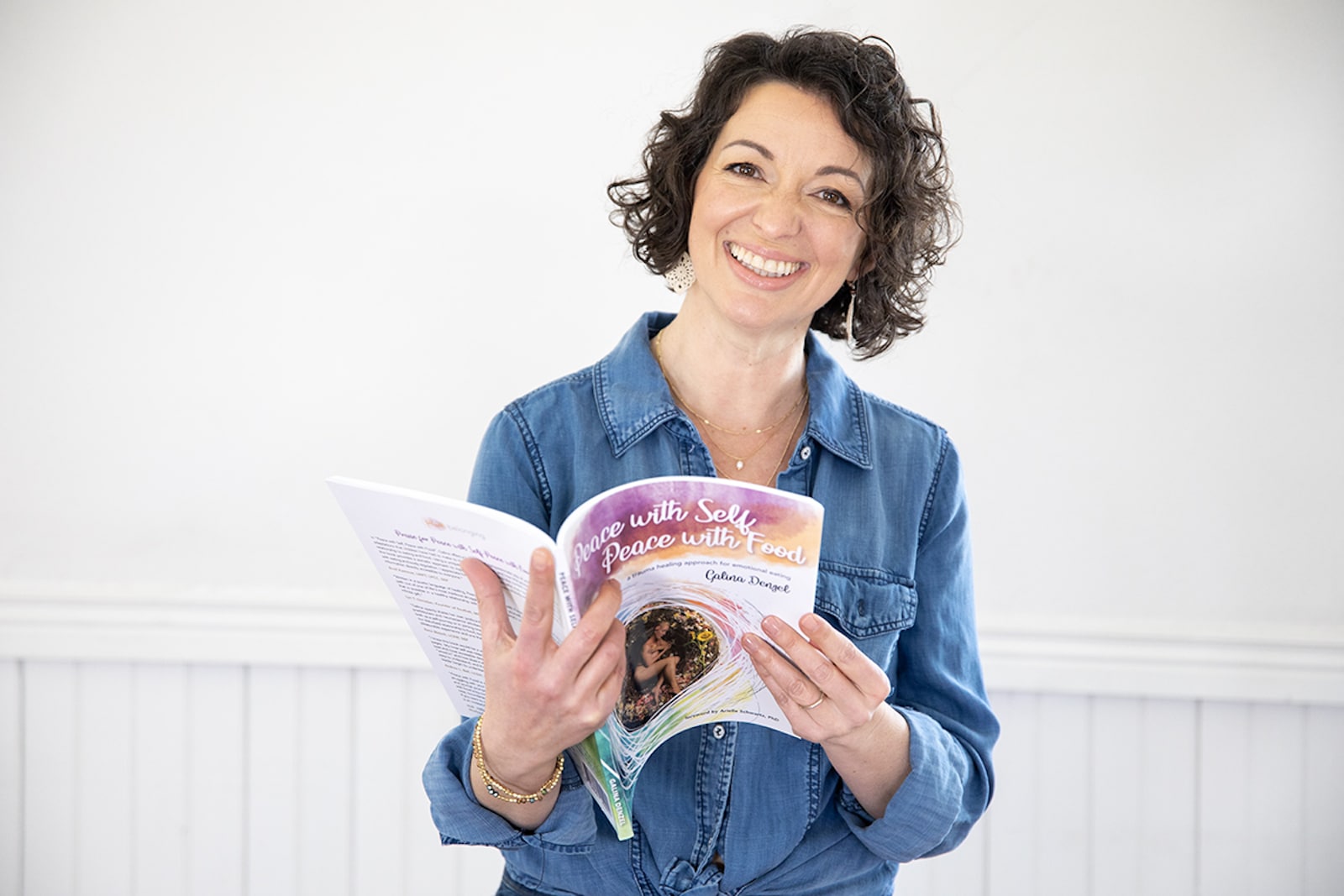 For many who struggle with food, the advice on moving forward can feel overwhelming and ineffective. While many tools out there claim to help you love your body and eat "normally," – most of them miss a massive piece of the puzzle.
That's why I wrote Peace with Self, Peace with Food – to create a simple, hands-on guide to help you address your body's coping mechanisms and find greater peace with food. Over the years, I've had hundreds of students try the Peace with Food method with great success. I'd love for you to give it a try.
-Galina Denzel, Author